iOS devices like the iPhone and iPad are built to take pictures with great convenience, but when it comes to editing and enhancing your photos, you're sure to be disappointed.
I can't speak for the iPhone users, but as an iPad owner, I know that there are only 4 editing features in the camera app: rotate, enhance, red-eye, and crop. These are nice features to have, but they're nothing special and they don't actually change your photos.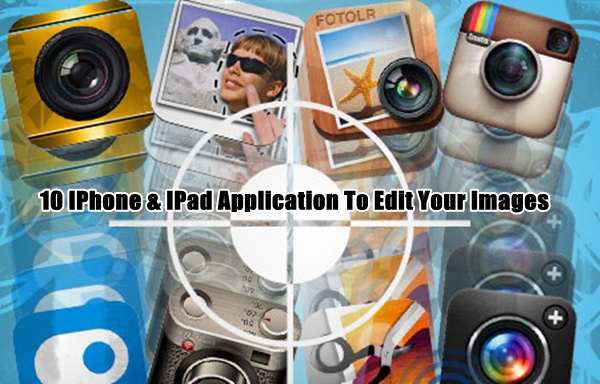 So what should you do if you want to have fun with your photos and add interesting filters, effects, and enhancements – besides the basic features that the iOS camera offers? Well luckily, there are many apps for that and we're going to cover the best ones in this list.
AR Pho.to Cartoonizer
AR Pho.to Cartoonizer is the app which helps you to transform your photo into various new forms. You can cartoonize your picture with lots of face effects and make it funnier. And it also provides some funny and interesting effects with which you can make yourself an alien or any weird thing. You can experience the enjoyment of this application for free.
PhotoSketch
PhotoSketch is the app that create sketch of your normal photo. And it completes its work very quickly and with 100% perfection. Just download this application for free and enjoy.
SketchMyPhoto Mobile
SketchMyPhoto Mobile is amazing application to convert your photo in pencil sketch. And you can use this for unlimited number of photos. Now, you can download this interesting application for free.
Cartoonize
The name of this application completely indicated its features. You can cartoonize your photo with adding cartoon effect. Let's cartoon your photo and upload in social networking website to get lots of likes and comments.
Cartoonizeme
Cartoonizeme is the app which basically not cartoonize your photo but you can add lots of funny clip-arts such as eyebrows, hats, spectacles, bows, mustaches etc to your photo and create a funny transformation of your normal photo.
Photo to Toon
Photo to Toon is basically centralized to cartoonize your photo and you can also add toon lines to provide more attractiveness. It does also provide a plenty of photo frames to choose from.
ToonPAINT
ToonPAINT is completely astounding application and undoubtedly provides unique and interesting features. You can paint your picture with your fingers and create an attractive image of yourself. Show your creativity and create something new and unique.
Photo360
Photo360 allows you to edit your picture according to your need. You can crop and rotate your picture and also add frames to your photo. It's also providing a unique feature to add your photo to various 3D elements such as cubes, soft-drink cans.
Paint FX: Photo Effects Editor
Paint FX is an impressive photo editing application which allows you to edit your picture with a lot of advance and remarkable effects. And you can also choose the part of particular photo where to want to add the effect. It's just offering unlimited ways to beautify your images.
FX Photo Studio
FX Photo Studio is modified version of Paint FX. With all features of Paint FX, it's also providing various other features. You can add more than 200 effects to your photo, you can create postcard of your photo and sent it where you want to. You also upload your photo collection on social networking websites.
(Visited 19 times, 1 visits today)